Textile sampling process in India
You are launching a new brand or your next collection? You will need to make samples and prototypes for sure!
In order to control the look and the finish of a product, some people would make their prototypes themselves. They buy the fabrics from some local retailers and then get the styling and making done by a local tailor (process that is often very expensive). This step is not compulsory and most brands get their samples done directly with a manufacturer.
In any case, you will have to get sampling done from a manufacturer… This is an important step in the creation of your collection because it allows you to:
– Check the skills and the reactivity of your manufacturer and select the one you want to work with.
– Check the look of the product in production.
– Define the final price of the product.
For a better understanding, we wanted to explain you the different steps and the constraints that our manufacturers face during a sampling process.
After receiving the technical folders of your T shirts, dresses or other textiles, your manufacturer will first source your materials and accessories.
1- Fabrics and accessories sourcing in India
For production, the manufacturers will source the fabrics, accessories and trims from wholesalers or directly from the mills. For the samples, the process is different as they need to find small quantities that are available. They need to go to local retailers who will have more choices (more colors) and will not impose a minimum quantity. It is important to keep in mind that the fabrics that are sourced from retailers are not processed or washed… This is why, in most of the cases, a sample can never match the quality of a bulk produced product.
For particular fabrics, with particular GSM, it might also happen that the fabric won't be available with any local retailer… In this cas, your manufacturer will offer you similar fabrics which are as close as possible to the fabric you asked for.
The process is exactly the same for the accessories and trims (velcros, zips, buttons..etc..).
In any case, you should know that India is a textile land and the variety of fabrics and trims available in retail is really amazing.

2- Dyeing process in India 
Unless your product does not require any specific Pantone color or a bleaching, your manufacturer will have to dye the fabrics in the color you have chosen. The dying units usually impose to the manufacturer, a minimum quantity which is generally between 10 and 15kg of fabric and per color! This would mean that your sampling cost would go high !
Other local dyeing methods can be used for sampling but the final result is not always good in terms of color fastness. If you only need to see the color outcome, this will be the cheapest solution.
3- Embroidery, printing and embelishments
You may add some printing or embroidery on your product. Unless you manufacturer offer this service, he will probably outsource this operation.
In the case of a screenprinting, the manufacturer or outsourcer would have to prepare as much screens as the number of color. Each color generates additional cost.
There are other printing technics such as digital print, transfer print, sublimation…etc.. and each of them has its own method and development cost.
About embroidery, unless it can be done by a craft person, the manufacturer will have to establish a price for the matrix of the embroidery machine.
4- Pattern making in India
According to your technical drawing and measuring tables, the manufacturer would have to create the patterns in the right sizes. You will have to make sure that your technical files are very clear and precised in order to avoid any confusion.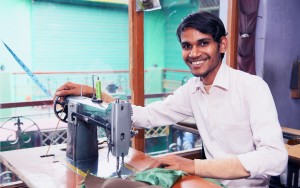 5- Cutting and stitching
After your fabrics, trims and accessories are sourced, your pattern done, your fabrics are dyed, printed, embroided or embellished, it is time for the cutting and the stitiching. The products will then be shipped to you for approval/comments.
Indian manufacturer are really good in understanding the construction of textiles, garments and accessories but if you are specific about the stitching part, you should be as precise as possible.
6- Costs of developing a sample
While reading this article, you probably understand that making a sample or a prototype has a cost. The below table would give you an estimate of a sampling cost. (after building a strong relation with your manufacturer, you might get your sampling done for free!).
| | |
| --- | --- |
| Sampling stages | Costs estimate |
| Sourcing material | Price depends on the chosen material: 5 to 50€ |
| Dyeing | Industrial dyeing with a minimum 10Kg load : around 180€ local dyeing : 5 to 20€ |
| Embroidery and textile printing | Depending on the number of color used, the shape (embroidery) and the size: between 20 and 80€. |
| Pattern making | The pattern making is generally free of charge in India but the cost is around 15€. |
| Stitching | Stitching is generally free of charge for the samples. |
Conclusion
Prototyping is an important step in the production of a product and it has to be considered. It is essential to understand the constraints that the manufacturers face and the time they spend on making your samples and prototypes. In India, the cost of prototypes can vary a lot depending on your product, the organization and the supply chain and your relation with your manufacturer.
About us – We are Sourcing Wold Products (SWP). A fashion buying house based in Paris and Delhi, we assist brands and companies in their sourcing and manufacturing of textile, ready to wear and accessories products. – www.sourcingtextileinde.com