Supporting disadvantaged childrens in India
Aside from violence and economic issues we experience every day on the planet, we decided to start this New Year 2015 by supporting a fair cause with our partner, the association Rythm of Life – The education of the disadvantaged children in India —
Rythm of life is an NGO that created three education centers in different slums of Delhi. Their aim is to allow the youngest – who are often put a part from the society—to have access to education. A lot of teachers decided to volunteer to help this causes in general sciences such as literature or geography, but also in artistic sector with dancing, drawing and singing courses.
The ones that are 16 and above get the opportunity to receive drawing and traditional Indian art courses so that they can express their art on textile like (scarfs, t-shirts…) in order to sell it and generate an income on their own.
At SWP, we were very impressed by the work of these volonteers. That's why we decided to support them financially by donating a part of our revenues and helping them to grow their structure to make more money.
Here are a few suggestion to help them
Make a donation – For more information , write us to

info@sourcingtextileinde.com

Buy their products – You can see them on the following website

therhythmoflife.org

Be part of their new campaign – "One bag for one child "—More informations below: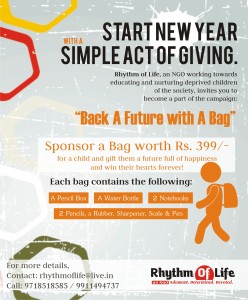 About us – We are Sourcing Wold Products (SWP). A fashion buying house based in Paris and Delhi, we assist brands and companies in their sourcing and manufacturing of textile, ready to wear and accessories products. – www.sourcingtextileinde.com